Put yourself in the picture on this world-renowned walk.
Journey into the head of Lake Whakatipu as you prepare to explore the world-famous Routeburn Track.
Make your way on this great walk in Mount Aspiring National Park with a gradual ascent, through a magical 130 million year old world of ferns, mosses, lichens and beech forest.
Your knowledgeable guide will describe the forest plants, point out those with medicinal benefits and introduce you to our native birds.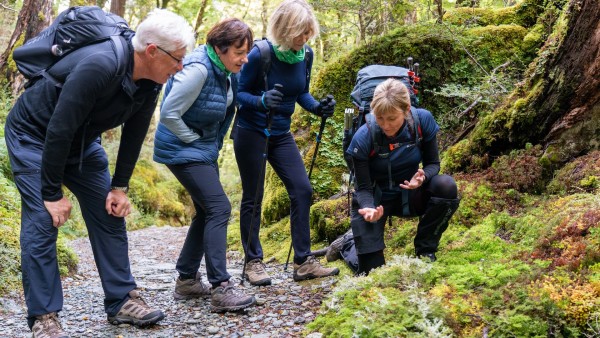 Just a few kilometres into the track, the woodlands part to reveal the rich grassland of the Routeburn Flats, overlooked on all sides by majestic mountains. The Flats is a pristine site to stop for lunch.
After a delicious lunch, we turn and enjoy the valley in reverse. Exploring the old paths of the Māori travellers as we travel along their old 'Greenstone' trails.
Guided Walks New Zealand has exclusive access to off track sections of the Routeburn Valley. Book a privately guided experience or join a daily group departure.

Duration
Full day, approximately 9 hours and 5 hours walking time



Walking Distance
Between 13-18 km return (moderate)

Track
Well-formed walking track

Food
Snacks, tea and coffee, and a picnic lunch / packed lunch

Departs
8:00am year round.
A great option for winter months
Daily Group Departure Prices
| | |
| --- | --- |
| Adult | $239 |
| Child (8-14 years) | $175 |
Please note daily group departures require a minimum of 2 pax to go ahead.
Privately Guided Experience
1-4 People
$1,350
Extra Adult
$239
Extra Child (8-14 years)
$175
Extra adult/child rate charged up to a full group of 10
Prices valid from 1 October 2023 - 30 September 2024
Frequently Asked Questions
What do I need to bring on a guided walk?
For all our walks it's important that you wear sensible footwear, ideally closed-toed trail shoes or hiking boots. Sunglasses are essential all year round, as are hats (sun hat in summer, a warm hat in winter), sunscreen, and a waterproof jacket. Our weather can be changeable especially in the mountains so make sure you come prepared with plenty of warm layers. Bring a small daypack if you have one, or borrow one from us.
Click here to find out a full list of things you'll need and what we provide.
Do you cater for children?
Our guided day walks are suitable for children aged from 8 years old. We would highly recommend families with children to consider a privately guided walk to enable the experience to be tailored exclusively to the pace of the children involved, and also cater specifically to their interests.
What are the toilet facilities like?
There are only limited toilet facilities on our walks. There are 'bush' toilets provided by the Department of Conservation at most of the carparks and beside any huts we may pass. Your guide will make sure you are aware of these, they normally suffice for all our trips. On the very rare occasion should clients need to use the 'green room' our guides carry toilet paper, and hand sanitiser.
What sort of weather conditions can I expect during winter?
Winter is typified by cool, calm, clear days in the Southern Lakes area. Other days might be overcast or wet, and sometimes there's a good 'southerly' thrown at us which might bring wind, snow - classed as 'real expedition weather'.
Our weather forecasts are quite accurate, and when met at your accommodation, your guide will ensure you have the chosen the right clothing for the day. Good, warm layers from base to outer are essential, as are hats and gloves. This is especially important if you are joining the Aspiring Wilderness Experience, where you will be on the jetboat for 1 hour.
What is provided for me on the guided walks?
All transport to and from your Queenstown accommodation (excludes private residence).
Lunch (on full day hikes), snacks and tea/coffee. Please note you might need to carry the provided lunch (when included) in your backpack.
Knowledgeable and friendly guides.
Interpretative commentary of flora, fauna, history and geology.
Walking poles, day packs and jackets are available on loan.
How fit do I need to be?
While we aim to find a pace that suits the group, in order to make the most of the experience we would recommend that guests have an average level of fitness and walk regularly. Each of our walks has a different walking distance and terrain involved and we are happy to answer any questions you may have on which walk is best for you.
The Famous Routeburn Track Image Gallery

Check out the beautiful image gallery featuring this experience.

All Experiences

Check out all experiences offered by Guided Walks New Zealand.

How to Prepare for a Hike

Check out our tips on how to prepare yourself for your upcoming adventure.